Christmas is just around the corner! It's that time of the year when families come together, homes are adorned with festive decorations, and the spirit of giving fills our hearts.
If you're on the hunt for the perfect Christmas gift that combines timeless tradition with a dash of nostalgia, look no further than the enchanting world of model trains. Whether you're an experienced hobbyist or a curious beginner, these miniature locomotives and their intricate tracks have an undeniable charm that can captivate hearts of all ages.
In this Christmas Shopping guide, we invite you to embark on a journey through the mesmerizing world of model trains. We'll be your conductor as we explore different types of model trains, from classic steam engines to modern electric marvels, perfect for gift-giving this holiday season. Whether you're shopping for a loved one or treating yourself to a delightful new hobby, you're sure to find something that steams its way into your heart.
Train Sets to go Under the Tree!
Having a model train set encircling the base of your Christmas tree is like adding an extra layer of enchantment to your holiday decor. It's a tradition that harks back to simpler times, when families would gather around the tree to share stories, laughter, and the joy of the season.
It's not just a decoration; it's a symbol of the season's spirit and a testament to the enduring allure of the simple pleasures that make Christmas so special. So, having a model train set beneath your Christmas tree isn't just about aesthetics; it's about creating cherished memories and embracing the timeless traditions that bring warmth and wonder to this magical time of year.
Great sets for the Christmas season include Hornby's Coca Cola themed train set, which comes with a great little diesel engine and a pair of Santa and Cola liveried wagons! This set is readily available, and is sure to look great running around the Christmas tree, and with Hornby's reliability, it is sure to continue running throughout the Christmas season for years to come.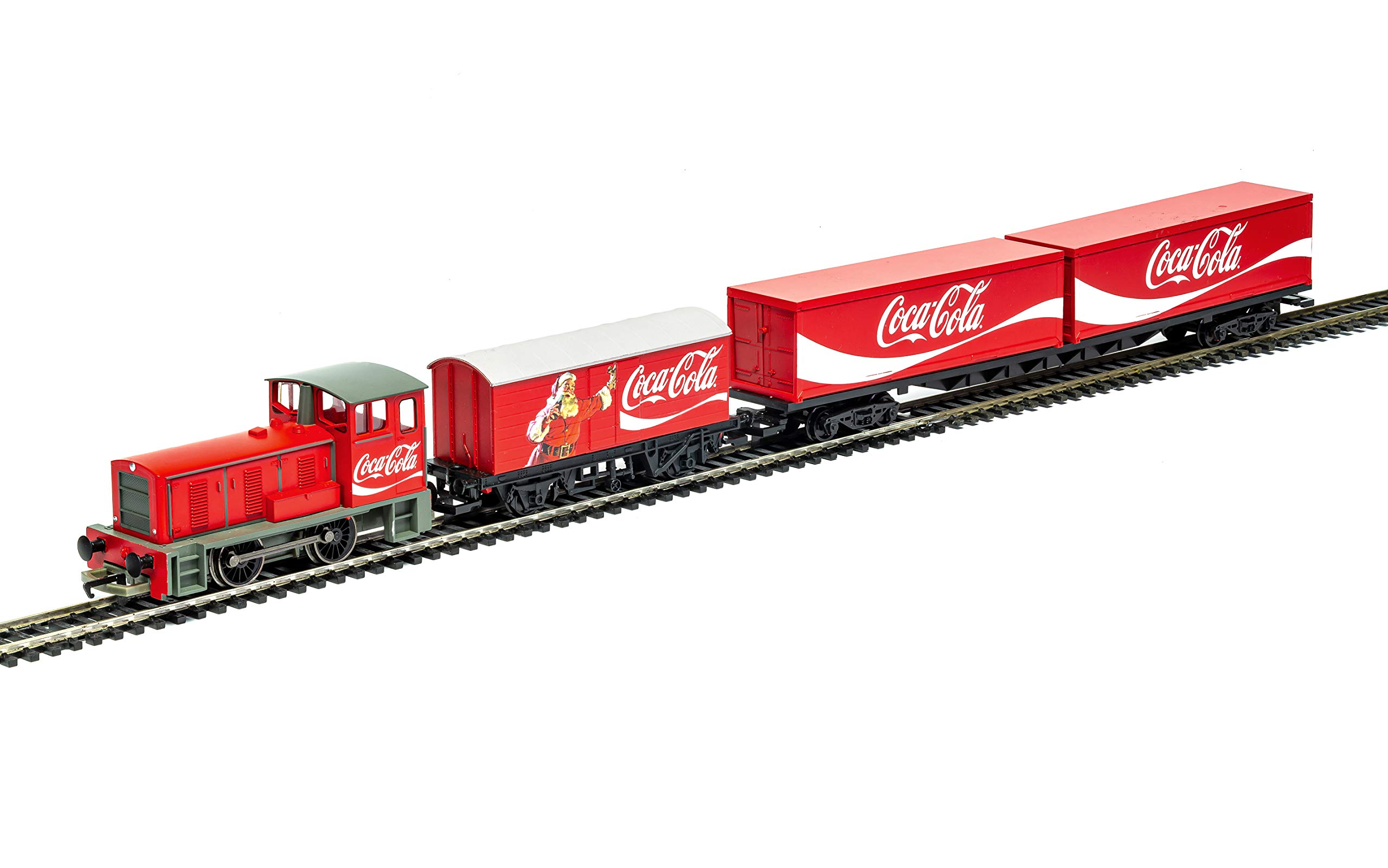 Train Sets for the Children (3+)
Marklin's 'My World' range of battery-powered remote-controlled trains is the perfect Christmas gift for children aged 3 and up. These delightful miniature locomotives offer an excellent introduction to the fascinating world of model trains, encouraging kids to develop fine motor skills and nurturing their creativity. With easy-to-use remote controls, even the youngest engineers can take charge, making it an interactive and engaging experience. The trains are designed with safety in mind, ensuring hours of worry-free play, and the colorful, robust construction is both durable and visually appealing to captivate young imaginations. Gifting a
Marklin 'My World' train set
at Christmas not only brings joy to a child's face but also fosters a love for exploration, problem-solving, and imaginative play, making it a gift that continues to give long after the holiday season has passed.
Marklin produce MyWorld sets of a number of iconic passenger trains such as the TGV and ICE high speed trains that operate in France and Germany respectively - some MyWorld sets come with additional toys to add a lot of play value - such as a tractor and animals with the Farming starter set, or digger's and road signs in the Construction starter set.
Another great toy for the younger rail enthusiast are the London Underground plushies made under licensed with high quality material by the London Toy Company - these brilliant, durable plushies would make great stocking fillers, and are sure to last as perfect cuddle companions for years to come!
Train Sets for New Modellers
Hornby OO gauge starter sets
are a fantastic gateway to the world of model railroading and an ideal way to introduce newcomers to this captivating hobby. The iconic
Flying Scotsman train set
, in particular, holds a special place in the hearts of enthusiasts and history buffs alike.
These starter sets are carefully designed to provide beginners with everything they need to embark on their railroading journey, from locomotives and rolling stock to track layouts and controllers. What sets Hornby apart is their commitment to detail and authenticity, ensuring that even beginners can enjoy the thrill of owning a high-quality model of a classic locomotive.
Aspiring hobbyists can experience the joy of assembling their layout, watching the Flying Scotsman or other renowned trains come to life, and learning about the rich history of rail travel. Hornby OO gauge starter sets offer an immersive and educational experience, making them a perfect choice for those looking to dip their toes into the world of model trains, and they often become cherished keepsakes for both young and old enthusiasts alike.

Kato N gauge starter setsare a gift of endless possibilities for model train enthusiasts, especially for those with limited space. In the world of model railroading, N gauge is renowned for its compact size, making it the perfect choice for individuals who may not have ample room for larger layouts. These starter sets, equipped with Kato's renowned precision and attention to detail, offer a mesmerizingly realistic experience on a smaller scale.
The beauty of N gauge lies in its ability to recreate intricate scenes and lifelike train operations within a confined space, making it an excellent choice for urban dwellers and those with cozy living quarters. Whether you're starting a new hobby or expanding an existing one, Kato N gauge starter sets are not only a thoughtful Christmas gift but also a doorway to a miniature world of creativity, craftsmanship, and railway adventures, all while fitting seamlessly into even the coziest of spaces.
Recent Posts
Christmas is just around the corner! It's that time of the year when families come together, homes a …

Great Western Railway E140 B Set Coaches by Rapido Trains UK - UpdateRapido Trains UK have released …

Model trains and model railways have been popular hobbies for generations. From children to seniors, …