Posted by Railway Model Store Team on 22nd Dec 2021
In todays blog post we are taking a look at the fantastic BR193 electric locomotive, produced by Roco in HO Scale, in the vibrant Flixtrain livery.
Taking a look at the box, we can see it makes a change from the standard Hornby packaging, it is much higher quality, and very professional, it has a feel of a high standard products. It is similar to Dapol packaging, however it does not feature the image of the loco featured on the front of the box, and is in a deeper navy blue colour, with orange Roco logos. On one end we have a small diagram of the loco, and the product codes and loco number, and the Flixtrain logo. It is a very smart box overall.
Once the box is opened we get a large and very comprehensive instruction manual, with diagrams and part numbers - from this we also find out that the engine is DCC ready, and can be fitted with a 21-Pin DCC decoder. Again, similarly to Dapol packaging we have a thin foam protective sheet covering the engine, which is firmly in place in a polystyrene type insert, with further protective plastic on top. Overall the packaging is very high quality and makes sure it is very difficult to damage the locomotive in transit. Inside the box we also have a large quantity of extra detail parts, that can be fitted to the locomotive as per the owners preference. The fact that this engine even comes with a detail pack is very surprising, it already is an astoundingly high quality and well detailed model, so the fact that further detail can still be added is very impressive and shows the amount of thought the staff at Roco have put into this model.

The Siemens Vectron is available in four types - electric AC and DC, diesel and multi-system, they were introduced in 2010 and are operated by a number of European companies, including DB Cargo Polska, Railpool, Bulgarian State Railways and others. Flixtrain use Railpool owned locomotives on their long distance economy class passenger trains, that operate to supplement 'FlixBus' services across Europe. Flixtrain work with Railpool to provide locomotives and coaches, and all coaches are comprehensively renovated to include Wifi, USB Ports and other standard features for modern long distance operations. Flixtrain operate BR183 locomotives in both Germany and Sweden.
After taking the locomotive out of the box we are instantly shown that there is an incredible amount of detail on this model, it looks as if the engineers at Roco simply found the real thing and used a shrink ray to reduce it to HO Scale! Personally i would say it is up to the detail quality of Dapols Class 68s, possibly even higher, as this model is just bursting with decals, separately fitted parts and an overall feel of a museum quality model. Starting from the side, we can see the finely printed white, green and grey livery of Flixtrain, which is a very striking and hard hitting paint scheme, there is no paint bleed and it looks highly authentic.
Around the doorframe and on the cab we have multiple small, yet legible, decals and multiple parts picked out in silver including metal handrails and door handles, even the steps up the the cab are immaculately made, and look amazing. The door has been lined out in black, as has the window, there are also many decals on the grey underframe of the engine, and continuing down the whole underframe of the engine - including warning symbols and numbers. The bogies are very well made and look highly detailed, with springs, hydraulics, brakes and sandpipes all present and in the same grey as the rest of the underframe, and again with many decals even on the bogie frame. Further down the sides we can see multiple separately fitted detail parts including mechanical parts with dials and other details.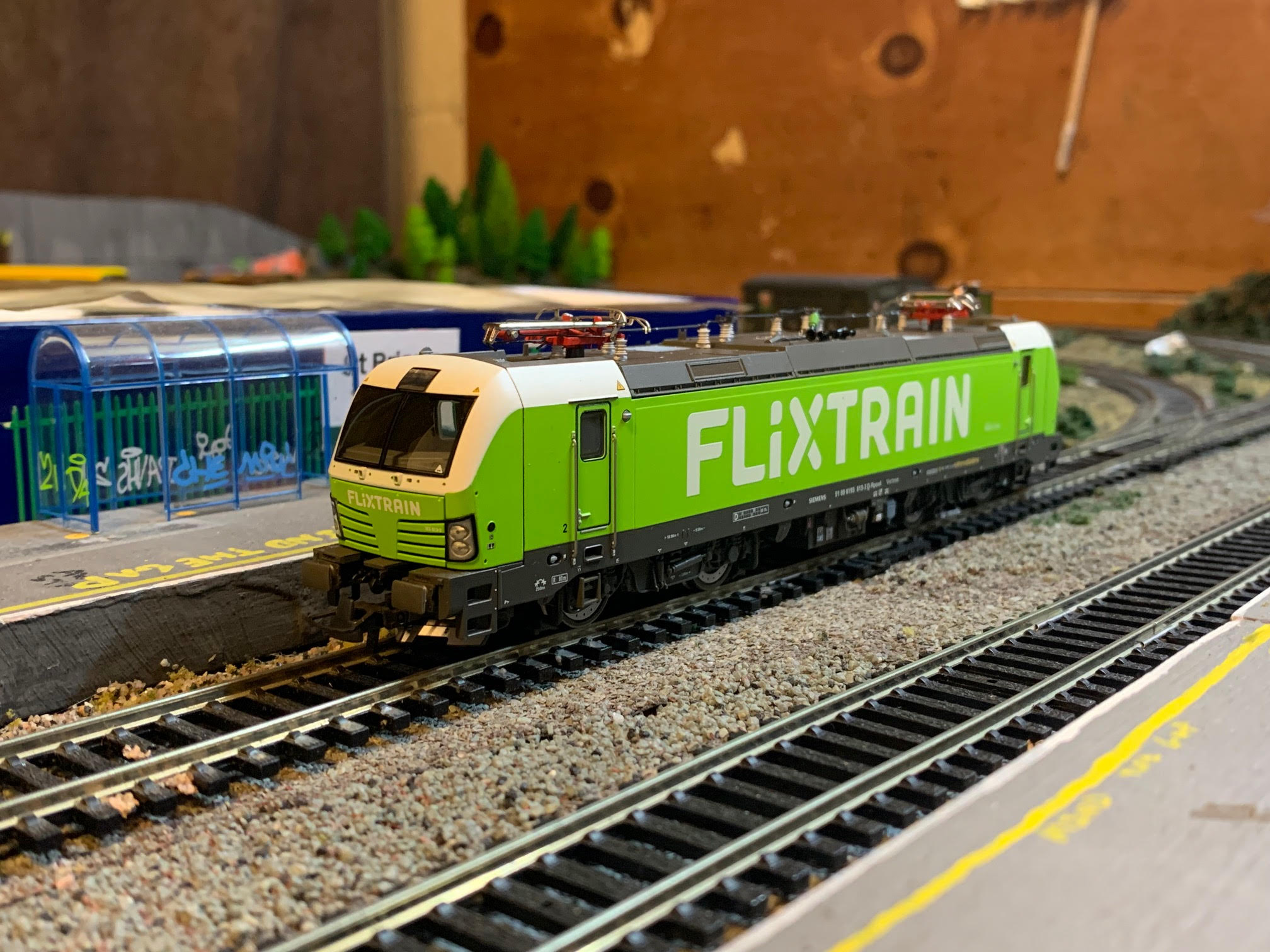 On the top of the locomotive we see the level of details continues to rise, with metal pantographs and many coils and wires and other separately fitted details attached to the body. The cab ends are also incredibly detailed with working lights, separately fitted buffers and ploughs, and many more decals printed onto the loco and the underframe, the can windows are tinted but we can still see that the cab features a driving console and chairs so no detail has been left unturned.
Once we take the locomotive down to the test track we find out that this is an incredibly smooth running engine, and responds incredibly well even to my old 90s Hornby controller, it ran smooth over my track and points without stuttering or any light flickering, showing the the model is a very solid and smooth runner, and has no issues with my trackwork or pointwork, even on second and first radius track!
Overall this is a very well made model which feels very high quality, with a massive amount of detail that represents good value for money for its fairly high price tag - however if you have the money to spare i would highly recommend this mode, its easily one of the best detailed and best running models i have seen and had the pleasure of running on my layout.
Buy here! - https://www.railwaymodelstore.co.uk/roco-ho-locomotives-flixtrain-br191-813-3-electric-locomotive-vi/